Special Afterschool Matters Issue Celebrates 40 Years of NIOST
June 23, 2020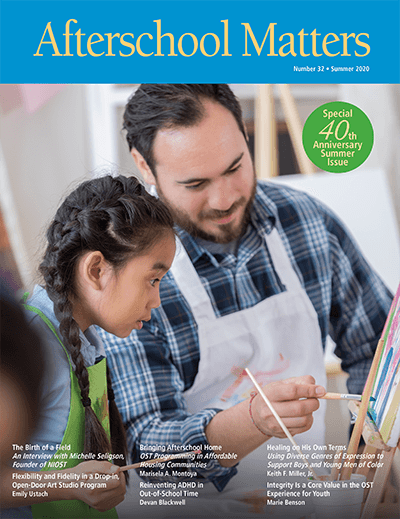 The National Institute on Out-of-School Time (NIOST) at Wellesley College is celebrating its 40th anniversary with a special summer edition of its Afterschool Matters journal, featuring an interview with NIOST founder Micki Seligson, a nationally recognized leader in afterschool and in childcare policy and practice.
Seligson spoke with current NIOST Director Georgia Hall about why she first became interested in childcare, the start of the program that would become NIOST, and her groundbreaking 1982 book, School-Age Child Care: An Action Manual, which saw 10 more editions through 1993. That volume, informed by NIOST's research, laid the groundwork for better understanding nationwide of how vulnerable children are if they are not supervised and how much they need quality school-age care.
All of the other papers in the issue are by OST professionals who participated in NIOST's Afterschool Matters Fellowship over the last five years, supported by a legacy gift of the Robert Bowne Foundation:
Emily Ustach looks at a Rhode Island arts program that engages high school youth by giving them choices, including when and how they show up.
Marisela A. Montoya shows how OST programs in affordable housing communities address some of the persistent issues with OST participation among low-income families.
Devan Blackwell writes about "Possibility projects" that enabled one afterschool practitioner to redefine ADHD in terms of attention-driven, hyperfocus-designed activities suited to the needs of all participants.
Keith F. Miller, Jr. explores how using diverse genres of expression and allowing for multiple ways of storytelling can better support boys and young men of color.
Marie Benson makes the case for why integrity is one of the social and emotional skills that OST programs are uniquely positioned to foster in participants.
We were humbled to work with and guide such thoughtful, committed, and dynamic professionals, and are inspired by their commitment to improving the quality of programs and experiences for all children and youth.
Throughout its 40 years, NIOST's work of consultation, training, research, and technical assistance has made it a leader in shaping and promoting OST as a distinct professional field with evidence-based quality standards. Yet our vision of quality OST for all must contend with the inequities of our country's systems and structures, which recent events across our nation have re-exposed. The relationships we have forged and work we have done will help show the way toward our part in building a just and equitable world in the decades to come.