Professional Development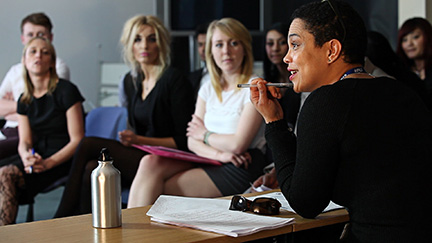 Dedicated, well-informed staff and administrators are at the core of a successful OST program. Our in-person and virtual, research-based professional development is designed to give you the information and skills needed to build on the success of your OST programs or networks and to improve in areas that need help.
Affordable and Customized.
We work with OST site administrators as well as city/state/regional governments and professional organizations to plan private, in-person or virtual learning sessions. Our trainings can be tailored for groups of anywhere from 10 to 40 participants and are led by one or two of our expert trainers, along with subject matter experts, depending on the needs and size of your group. In-person sessions are held at the location of your choice, anywhere in the U.S. and our interactive virtual supports vary between a single session to a series of events. In addition, we provide online training for our  APAS tools that measure quality and youth outcomes.
We want to be sure that our professional development works for you, which is why we are proud to have the flexibility and creativity to adapt our offerings to meet your needs. Whether it's a newly developed program, a multi-site organization, or a community, we can work together to ensure that you get exactly what you are looking for from single events to technical assistance, coaching, or ongoing consulation.
Browse our Professional Development Opportunities
Leadership Development

Leadership training is the first step in strengthening any afterschool program. How we see ourselves as leaders impacts the relationships we have within our program and our extended community. We can help you and your team develop skills that target not only the administrative aspects of your program but also the cultural competence to understand the unique needs of youth you serve and relational aspects that keeps programs stable and well attended.

Social, Emotional and Cognitive Learning

OST programs provide a unique opportunity for children to engage in social and emotional learning. In addition, your children and staff may be experiencing individual and collective trauma that deserves informed care. We can help you and your staff understand the fundamentals of this learning and care and weave practices that support both children and staff into your program. Together we can address the roles of cultural and linguistic diversity, emotional and mental health, and developmental needs in creating and sustaining an engaging, equitable learning environment for all.

Continuous Quality Improvement

Grow your OST program into something strong and sustainable, because a strong, sustainable OST program makes all the difference to the community it serves. We can help you on the path to sustainability through Continuous Quality Improvement (CQI), by preparing your team for CQI, teaching you a CQI process, or helping you initiate CQI across a network of programs. Together, we will help your families, youth, partners, and community create a culture committed to sustaining the wellbeing and life success of the youth you serve.
ASQ: A GUIDE TO AFTER-SCHOOL QUALITY - Learn how to improve OST program quality in 5 steps with our team-based approach. Our 48-page guide will walk you through the unique ASQ quality improvement process and teach you how to implement the model at your OST program site.

Assessment and Evaluation

Data tell the story of your program, identifying strengths and areas for improvement. The APAS System is a research-based, field-tested suite of customizable tools used to measure OST success. Learn more about the APAS System and how NIOST is measuring OST success.

System Building

Forge a unified system in your state, region, or city that shares data, creates a range of professional development opportunities, partners with youth development and community organizations, and promotes shared resources. Start with a pilot at a few programs and grow from there, we'll guide you along a customized path towards a stronger network of youth serving providers.

National Afterschool Matters Fellowship

This one-year professional development and leadership training program is unique in its national reach and incorporation of technology for ongoing collaboration. This fellowship is provided by the National Institute on Out-of-School Time (NIOST) at the Wellesley Centers for Women at Wellesley College with generous funding from the Robert Bowne Foundation.
Build on your OST success with our professional development trainings.